?? The profit hypothesis, ?? is free on Amazon today (10/25/2021)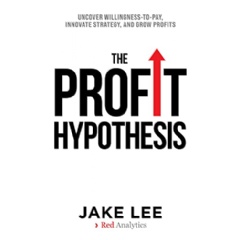 Best Seller Publishing announces the release of Jake Lee's new book, ?? The profit hypothesis: discovering the will to pay, innovating the strategy and increasing profits. ?? It's available for free download from the Amazon Kindle Store today, October 25.
Consumers will cheat you. Not on purpose, however, which makes the situation worse.
The consumer's perspective is an essential part of optimizing your business strategy. Marketers can make better business decisions if they can predict ahead of time what consumers will do. However, both of these types of questions inadvertently trigger an unwanted process in the mind of the consumer which is unreliable at best. Although well-intentioned, consumers are unaware of the trap that awaits you in their brains.
A well-designed experiment allows the decision maker to bypass the psychological trap and test a wide range of hypotheses. The experiment also allows you to quantify the predicted consumer behavior in the most important metric ?? profit.
This book will walk you through the steps of an experiment while focusing on the role consumers play in corporate profit. You will get an introduction to the basics needed without all the complex calculations.
Whether you've been experimenting with consumer choices for decades or just getting started, this book has something for anyone interested in crafting a better strategy based on a deep understanding of consumers.
?? The profit hypothesis ?? by Jake Lee will be free and available for download on Amazon for 5 days (10/25/2021 – 10/29/2021) at: https://www.amazon.com/dp/B09J1S7K5W
For more information:
If you have any questions or to schedule an interview on this press release, please contact us at (626) 765-9750 or email [email protected]
Best Seller Publishing is a Los Angeles-based publishing house dedicated to helping business owners and entrepreneurs become "the hunted". with their best-selling books.
About the Author:
Jake graduated in business and statistics. He was first introduced to choice experiences in an MBA marketing course. He found it so fascinating that he snuck into a much more technical doctorate. level course on the same subject the following semester.
Before graduation, the same teacher, who allowed him to participate in the advanced course, introduced him to a friend and helped him find a job at The Modellers. There he gained hands-on experience working on experiments with some of the foremost experts in consumer choice. While he was working there, his enthusiasm for helping businesses make better decisions turned into an obsession.
Since that first postgraduate experience, Jake has presented several unseen discoveries to the world at various conferences, including the American Marketing Association's Advanced Technical Research Forum and the Sawtooth Software Conference.
Today, he runs Red Analytics, an analytics company with a strong focus on consumer choice. The company works on projects that span the gamut from standard applications to big issues requiring additional computing power to rare issues that require a new approach or updates to the standard approach to avoid pitfalls for customers.
Jake pioneered the development of the best simulators on the market. The red analysis ?? the simulators are tailor-made for each customer, able to harness the power of cloud computing and provide an additional layer of firewall security for sensitive data. Custom applications can meet specific customer needs like willingness to pay and a wide variety of different cost calculations.
This news content may be incorporated into any legitimate news gathering and publication effort. Linking is allowed.
Press release distribution and press release distribution services provided by WebWire.