Sri Lanka: Ongoing protests are an 'Arab Spring' for Sri Lanka: Ranil Wickremesinghe, former Prime Minister of Sri Lanka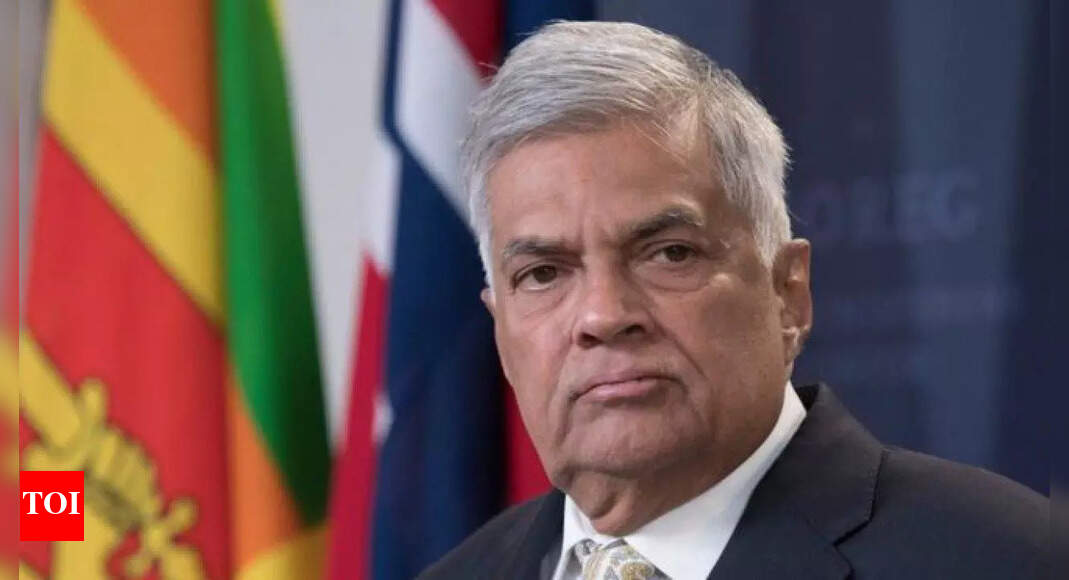 Seventy-three years old
Ranil Wickremesinghe
who was Prime Minister of
Sri Lanka
four times until losing to the current incumbent in 2019, spoke to
Padma Rao Sundarji
for The Times of India Online, from Colombo, just hours before a state of emergency was imposed in the country.
Q: Mr. Wickremesinghe, your economy is paralyzed. Thousands of angry Sri Lankans are protesting across the island nation over severe shortages of food, fuel, electricity and medicine. They surrounded the president's house and demanded his resignation. How to read such a surge of anger in the streets of Sri Lanka?
A: I have never seen such scenes before. I saw riots, I saw fights, I saw strikes. This is different. It is an explosion of the people's anger and suffering against inflation, the lack of electricity, the lack of gas, the shortage of gasoline. The whole system collapses. People couldn't wait any longer. When you have power cuts of 1 to 3 p.m., especially at night, it's difficult. And these are not just working-class neighborhoods, but also middle-class neighborhoods (where the first protests took place). Both groups took part in the demonstration. It started with a vigil at a nearby crossroads, until they decided to walk down to Pangiriwatte Road, where the president's residence is. It is an important event because the issue is taken up by the people, more than by the political parties. They reject political parties. It looks more like a movement, like the "Arab Spring".
Q: Sri Lanka has no foreign exchange reserves to pay its colossal external debt. The ruling coalition blames the previous government led by you. You will blame the current government. All things considered, what caused this crippling debt crisis? Can't Sri Lankan politicians tackle this together? Has the President's government
Gotabhaya Rajapaksa
reached out to the opposition?
A: Look, it's not worth wondering who is responsible. Each will continue to point fingers at the other. Let's look at the current crisis and look for solutions. What is the crisis, what are the solutions, how do we solve it? Unfortunately, we Sri Lankans are used to not attacking each other, but trying to find the cause of a problem. It won't work. We are in a serious economic crisis. Take the IMF's Article IV Consultation (a first survey conducted by a visiting team from the International Monetary Fund). He points to a drop in taxes, the unavailability of fertilizers. Thus, the team posited the factors responsible for the crisis. Now, how do we do it? Finger pointing won't work. We Sri Lankans must stop saying that this crisis is due to an endemic flaw in our system. The IMF has identified problems. Forget how they happened. Now let's see how to stabilize the situation, move the economy forward. The IMF said the crisis was due to balance of payments (BOP) problems and unsustainable debt. As you rightly pointed out, this requires a joint effort by the opposition and the ruling party. The latter called a multiparty meeting which I attended, but his overtures are not enough. We asked for a debate in Parliament after the article IV consultation report was tabled. But the ministry and the Central Bank refused to table it in Parliament. Following our intervention on the first day, it was published by the IMF itself the following day. We also want a relief budget, not a development budget.
Q: The current government came to power in November 2019. It could easily be said that the pandemic (2020-2021) has crippled tourism, Sri Lanka's main source of income. It could also project the fuel shortage as a consequence of the Ukrainian crisis. Would you accept these arguments?
A: The pandemic had started in November 2019 itself – the month when this government also cut taxes. This is why we have not been able to meet our objective of having a primary budget surplus. Covid-19 has affected everyone. But many countries have recovered, so you can't hide behind Covid-19. Sri Lanka suffers from a severe shortage of foreign exchange. As the IMF says, it is a balance of payments and debt crisis. And all of this was there long before Ukraine – after the start of the Ukrainian crisis, it drove up fuel prices. But these crises had been there for a long time.
Q: Why is the Sri Lankan government reluctant to approach the IMF? Is it somehow related to the tendency of the West to tie all financial aid to alleged human rights abuses by your armed forces, at the end of the Sri Lankan civil war which lasted 30 years?
A: The IMF is not interested in human rights. They are asking for a full recovery and the continuation of the programs we started earlier. I don't know why, but government officials, more than ministers, seem to be against it and have influenced ministers. When the IMF's Article 4 consultation report first came out and noted that Sri Lanka's long-term debt was unsustainable, our authorities countered by saying that the IMF was pessimistic. and that it was only a temporary problem. We have to go to the IMF – go ahead, don't hold the talks first and delay them further. Second, we need to recast the existing development budget into a two-year relief budget. And Sri Lanka should form a consortium of countries like India, China, Japan, South Korea, EU, which will help with some form of financing, subject to IMF approval of course.
Q: But the IMF will set other conditions. Put yourself in your government's shoes. If you were Prime Minister today, would you approach the IMF to deal with this crisis?
A: If I was prime minister today, I wouldn't approach the IMF. Why not ? For the simple reason that there would be no crisis, and therefore no reason to approach it.
Q: India has provided Sri Lanka with nearly $2.4 billion in lines of credit. Fuel and supplies have started arriving in Colombo. Other countries will also extend their assistance. But the agreements take time to produce concrete results. Sri Lankans urgently need help. When India airlifted aid to Sri Lanka during the civil war of the 1980s, it created controversy. But isn't an airlift the only way to get aid to Sri Lanka quickly?
A: Air bridges are not controversial at all. But the government of Sri Lanka should contact FAO first to report our problem, then India and others to provide immediate assistance. But our government has not yet made a decision on this. People can't wait very long for fuel, but the problem is that we don't have foreign currency to pay for it. There are one or two ships anchored outside the port of Colombo. But the 40 million dollars needed per ship are not available and our oil cooperation is lacking on certain invoices. Due to India's Line of Credit (LOC) for fuel, the first ships are expected to arrive soon. They may not meet all our needs, but they will meet the basic requirements. India has also made available an additional $1 billion for a line of credit. But all of that will expire in early May. We also made a request to the Chinese. But if granted, a Chinese grant may take us until June. So what do we do after that? So we first have to discuss with the IMF and find an arrangement. Then, it will be necessary to discuss with the 'London Club' of private creditors, and to find an arrangement. So all of this can take a long time.
Q: Several years ago, you criticized me for "harassing China" in an interview. You said that all Indian journalists are obsessed with China. But since you mentioned China: where is China, Sri Lanka's friend, when it is needed most? Will they restructure your debt? Are their gigantic projects in Sri Lanka bearing fruit?
A The Chinese are here. Some of the projects have not taken off, due to lack of foreign currency. Anyway, our debt to China is only a small part of our overall official debt. Most of our debt is made up of international sovereign bonds. As far as they are concerned, there is very little that China or India or anyone can do. Sri Lanka must pay them.
Q: But surely China can restructure your debt, no matter how small?
A: Well, they said they don't reschedule debts. But they will give us a billion dollars to pay back a billion dollars.
Q: Sri Lanka is part of China's Belt and Road Initiative (BRI). But the huge Chinese-built port city of Colombo is empty. the
Hambantota
port built by China is barely used. The Chinese-built Mattala International Airport has stood idle for so long that your government has used it to store paddy. Has your relationship with China brought benefits to Sri Lanka?
A: I have to say that Port Hambantota has improved its performance. But these projects are also affected by the economic crisis. Where will investors come from? It's a similar problem in the port city. Covid-19 prevented the first round of investors, now the economic crisis is holding back investments. So far, only one person has invested money in it.
Q: You are one of the top opposition leaders in Colombo. Will you support the government in power in its efforts to stem this crisis or push for its resignation and new elections?
Amnesty International does not believe the atmosphere is conducive to new elections. The economy collapsed. The electoral campaign will take 4 to 5 months. Meanwhile, the Sri Lankan Rupee (SLR) could further depreciate up to 500, maybe even 1000 to the dollar. We can't afford it. There is a shortage of all essential items. We have to solve these problems, then we can ask for an election.
Q: Not so long ago, it looked like you had gone towards sunset. But you seem to be back in active politics. Whenever there is an election, whether as prime minister or presidential candidate, will you run again?
A: I was indeed wondering if I should retire. But there is no food or electricity. I have tried to achieve a consensus of all parties on these pressing issues. If the government ran the country properly, I wouldn't have to do anything but retire. Now events keep me here. What can I do ?