ISU unveils art exhibition on effects of pandemic | Characteristics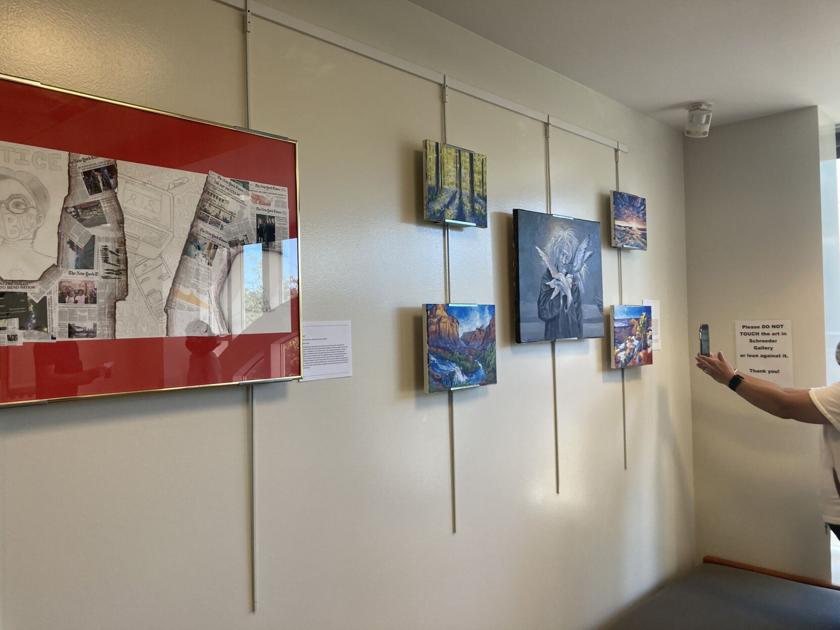 More than a year and a half since the pandemic first captured the nation's attention, the mental, physical and social toll it has taken on ordinary life is becoming increasingly evident.
This is the topic that Assistant Anthropology Professor Abigail Stone is addressing as part of the curating of the art exhibit, "Material Culture and Visual Ethnography of the COVID-19 Pandemic." The exhibit, which had its opening reception on September 16, is an exploration of the effects of the pandemic on daily life.
Stone was first inspired to create this exhibit while taking a walk with their child during their forties.
"Most of what we dig up as archaeologists is garbage that people don't think of when they throw it away, and I saw this mask slowly disintegrating, and it got me thinking about what to do. what this moment will look like archaeologically, "said Pierre.
A work, entitled "Sacred Texts" is produced in collaboration between Assistant Professor Laden Bahmani and Associate Professor Brian Franklin, both of the College of Fine Arts.
"Sacred Texts" is a wall installation that examines the language of the pandemic and how phrases like "we're all in the same boat" are repeated so repeatedly that they begin to lose their meaning.
"We're really interested in how words have specific, concrete meanings and that meaning can be picked up by different contexts," Franklin said.
Bahmani spoke about the circumstances that inspired the play.
"We didn't have any in-person classes so there wasn't much of a way to socialize so we kept talking about our experiences with the language and how important it has been over the past year. and a half, "Bahmani said.
The exhibit features work by ISU students, faculty, community members, and even a seventh grade student at Thomas Metcalf School.
"What I really like about the show is the diversity of people's perspectives," Stone said.
The exhibit is housed in the second floor lounge of Schroeder Hall and will remain open to the public for the remainder of the school year.
ISABEL BRAICO is a news and reporting reporter for The Vidette. Braico can be contacted at [email protected] Follow Braico on Twitter at @IsabelBraico