Florida government's vaccine analysis distorted online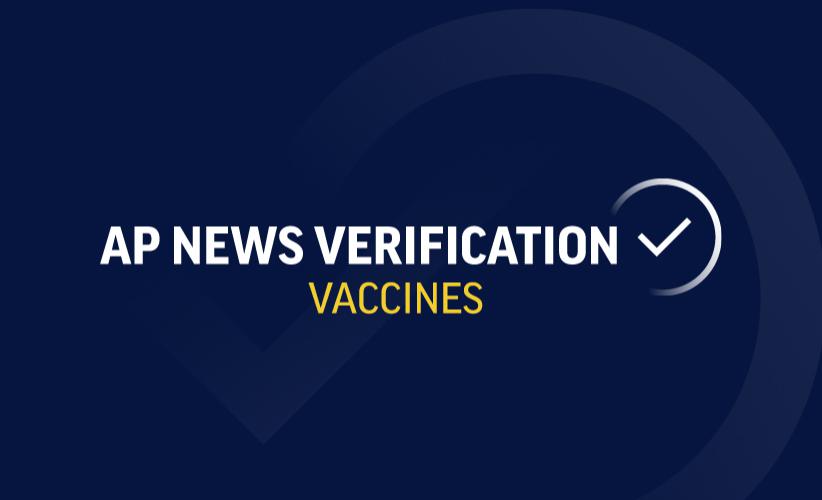 CLAIM: A recent analysis from the Florida Surgeon General's Office found that the COVID-19 vaccine resulted in an 84% increase in deaths among young men.
AP ASSESSMENT: False. The study, that has not been published or peer reviewedsuggests men under 40 have an 84% higher risk of heart-related death soon after being vaccinated. It did not find an 84% increase in deaths among young men who received the vaccine. Epidemiologists and other public health experts have also raised broader concerns about the study itself.
THE FACTS: In recent days, social media users have misinterpreted a controversial new study Florida state health officials.
"BREAKING: Florida Surgeon General: Covid mRNA vaccine caused 84% increase in DEATH in males ages 18-39," one Twitter user said. The post, which has been shared or liked more than 67,000 times on Friday, links to media coverage of the study from the office of Florida Surgeon General Joseph Ladapo.
"Feel free to share…84% increase in deaths," another user wrote on Instagram in a post that included a screenshot of new health guidelines from the Florida Department of Health emitted in response to the analysis.
But public health experts who spoke to The Associated Press say the study's conclusions are flawed because the research has not conclusively proven the deaths were linked to the vaccine. Experts also expressed other concerns about the study, including that its main conclusion is drawn from a relatively small sample of cases, that its authors have not been named, and that the study has not been evaluated. peer-reviewed or published in an academic journal.
They said the study did not show an 84% increase in deaths among young men after being vaccinated, as some social media posts incorrectly conclude.
The 84% statistic refers to an increased risk of cardiac death, not an increase in all deaths in this age group, said Albert Ko, an epidemiologist at Yale's School of Public Health who does not did not participate in the study.
In the study, the researchers looked at two time periods to compare the rate of cardiac death among vaccinated Florida men between the ages of 18 and 39. They analyzed deaths that occurred within 28 days of vaccination versus deaths that occurred 29 days to 25 weeks after vaccination, he said.
They concluded that young men were at an 84% higher risk of cardiac death shortly after receiving the vaccine than weeks later.
Ko said it's a complicated study design, but not unusual in epidemiology.
The study authors analyzed reports of more than 60,000 Florida adults who died from reasons other than COVID within 25 weeks of receiving a COVID-19 vaccine. The study period extended from the start of the vaccination roll-out on December 15, 2020 until June 1, 2022.
Researchers found that 72 Florida men under the age of 40 died of cardiac causes during this time frame, of which 20 died within 28 days of injection and 52 died between 29 days and 25 weeks after injection. 'injection.
But the researchers only analyzed death certificates, which can often be inaccurate, and did not delve into the medical reasons for the deaths, said Jason Salemi, an epidemiologist at the University of South Florida College of Medicine.
"We have no idea if these deaths were actually associated with the vaccine," he said by email. "Medical records were not reviewed and their definition of cardiac death includes cardiac arrest, which may have nothing to do with the vaccine."
Ko agreed, saying additional information is needed to understand the main finding of the study, as the association between heart-related deaths and COVID vaccination has not been identified in populations and sets of much larger data.
The Centers for Disease Control and Prevention said there was a risk of heart inflammation, especially in young men receiving their second dose of COVID, but cases have been rare and relatively mild.
"My concern is not that the design is necessarily flawed, but that more information is needed to know if the outputs were flawed or interpreted incorrectly," Ko wrote in an email. "It really underscores the importance of a rigorous scientific review process, especially when important decisions such as vaccination depend on evidence."
The Florida Department of Health did not respond to emails seeking comment this week, but the study acknowledges some of its limitations.
"This study cannot determine the causal nature of a participant's death," the researchers wrote in the study, later adding that "the underlying cause of death may not be cardiac."
Daniel Salmon, director of the Institute for Vaccine Safety at Johns Hopkins University, who was not involved in the study, said there was simply not enough information provided in the analysis. eight pages to draw fair conclusions.
"You need to know what they did to assess the validity of their findings and also so people can replicate them," he said in a phone interview. "Because the key to science is reproducibility. You cannot evaluate or reproduce it without more details.
___
This is part of AP's efforts to combat widely shared misinformation, including working with outside companies and organizations to add factual context to misleading content circulating online. Learn more about fact-checking at AP.
***