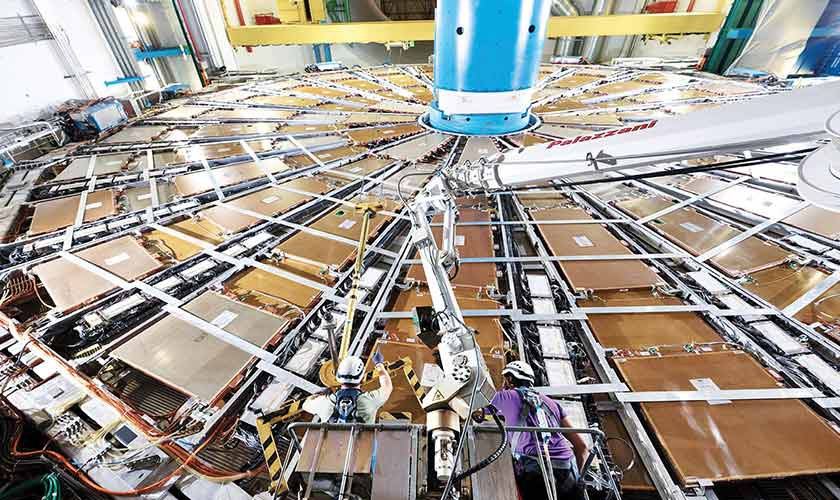 JThis week, Pakistan is about to get the official renewal of its Associate Member State status with CERN, the prestigious international scientific research and development (R&D) organization based in Switzerland. The CERN Council must hold its meeting with this item on the agenda, as the CERN working group visited Pakistan last month to ensure that Pakistan adequately meets the quality criteria of associate member under current conditions and environments within its R&D institutions, universities and industry. Pakistan had become an Associate Member State on July 31, 2015, the only Asian country to achieve this position at that time. Pakistan ratified the status agreement with CERN on August 26, 2015.
CERN, the European Organization for Nuclear Research, has 23 Member States and 10 Associate Member States, while 3 other countries (and 3 other international organizations) hold observer status. There are about 200 universities in the world and some 300 physicists and engineers are associated with CERN to develop its various projects and conduct experiments. Since its creation in September 1954, CERN has taken innovative and stimulating initiatives in the field of science and technology. It is one of the most notable inventions is the internet facility as the World Wide Web (www) was established at CERN in 1989. During this experiment, other inventions in medical science such as CT scan and MRI have also emerged.
It can be difficult to fully encompass the breadth of activities and experiments that CERN carries out in the fields of science and technology. CERN's main area of ​​research is particle physics; a branch of physics that studies the nature of the particles that make up matter and radiation. In other words, CERN is working for a better future for humanity by probing the fundamental structure of the particles that make everything around us. Therefore, the main function of CERN is to provide particle accelerators and other infrastructure necessary for research in high energy physics. CERN is also an immense technological resource for the world through its global computing grid which provides global computing resources for the storage, distribution and analysis of data generated by CERN experiments.
The Pakistan Atomic Energy Commission (PAEC), which uses nuclear technology in power generation, medical science and agriculture, is the lead organization in the Pak-CERN cooperation. Pakistan's collaboration with CERN dates back to the 1960s, but was formalized in 1994 when the International Cooperation Agreement was signed. Subsequently, Anwar Ali, President of PAEC, signed a protocol with CERN in January 2006 in Geneva. Under this agreement, Pakistan provided technical and scientific support in the areas of new accelerators, collimators, particle detectors and information technology. The collaboration came to fruition in June 2011, also extending the technical cooperation to other CERN projects and the placement of Pakistani scientists at CERN. The document admitting Pakistan as an associate member of CERN was signed in Islamabad on December 19, 2014 by Dr. Ansar Parvez, President of PAEC, and the Director General of CERN.
This step has enabled Pakistan to enter into a fruitful partnership with CERN, which has resulted in Pakistan's increasing collaboration with CERN year by year, and its scientists and engineers have contributed extensively to the development of various CERN programs. . He regularly participates in CERN projects and experiments under the aegis of the Joint CERN-Pakistan Committee. During these years, PAEC has carried out several successful projects with CERN involving a variety of disciplines with sophisticated technologies and precision engineering. Pakistan has participated effectively in the development of the Large Hadron Collider (LHC).
Built between 1998 and 2008 by approximately 10,000 scientists and engineers from around the world, it is the largest, most powerful and most extensive accelerator in the world. It consists of a 27 kilometer (circumference) ring of superconducting magnets with several accelerating structures to increase the energy of the particles along the way. The LHC weighs 7,000 tons, is 44 meters long and 22 meters in diameter. The estimated annual electricity consumption is 750 GWh (Giga Watt hours). All accelerator controls, services and technical infrastructure are under one roof. From there, the beams inside the LHC are made to collide at four locations around the acceleration ring, corresponding to the positions of four particle detectors. These are ATLAS (the largest volume particle detector ever built, which weighs 7,000 tons and is installed 100 meters underground), CMS (Compact Muon Solenoid, built around the huge solenoid magnet), ALICE (A Large Ion Collider Experiment), and LHCb (Large Hadron Collider beauty, a 5,600 ton detector).
ATLAS and CMS are general purpose detectors while the other two are special purpose and dedicated. Normally operated at 4 TeV (Tera electron Volt) since 2008, the LHC has been operating since 2015 at very high energy, i.e. 13 TeV. It is currently being upgraded, to be known as the High-Luminosity Large Hadron Collider (HL-LHC), and will operate at high luminosity, as the name suggests, and be able to produce more data. It should be completed in 2026. The Pakistan-CERN collaboration is indeed a success. Pakistan has fabricated and supplied eight (8) huge magnet support legs for the CMS detector main magnet, other protective walls for this detector and hardware for the magnet itself. These magnet carriers, 25 tons each, worth one million Swiss Francs (CHF), were manufactured at Heavy Mechanical Complex-3 (HMC-3), Taxila. These giant stands proudly display the Pakistani flag.
HMC-3 was awarded the Best Industrial Partner award by the ATLAS Experimental Facility when President Pervez Musharraf visited CERN in January 2006 and decided to further strengthen and consolidate the collaboration. Accordingly, Pakistan/PAEC also agreed to extend its in-kind contribution to CERN in the amount of 5 million Swiss francs and 10 million US$ in subsequent years. In addition, Pakistan has carried out important work related to electronics, microchip design, manufacturing and data acquisition systems for CERN experiments. He provided small precision microwave parts for use in the accelerators and saddle mounts for the collimator. She was also involved in the design and manufacture of a laser alignment system and resistive plate chambers (RPCs) for use in detectors. Pakistan supplied and installed 432 RPCs for the CMS, for which the initial order of 288 numbers was won by it in competition with Japan and China.
Pakistan's membership in CERN is of great significance as it enables Pakistan to participate in the governance of CERN and participate in CERN's training and career development programmes. Today, more than 75 Pakistani scientists and engineers are involved in major CERN projects and experiments.
Technology transfer is a key element of the agreements signed with CERN, and many Pakistani scientists and engineers are trained at CERN.
On the other hand, it also opens the possibility for industry to bid directly for contracts for software design, mechanical engineering and other supplies and services for various CERN projects. Efforts must therefore be made at all levels of government to optimally exploit these opportunities in the diverse fields of advanced technology in a timely manner.
---
The writer is retired president of the State Engineering Corporation