Demonizing Disney: Fox and right-wing media attack entertainment giant as 'woke' company indoctrinates children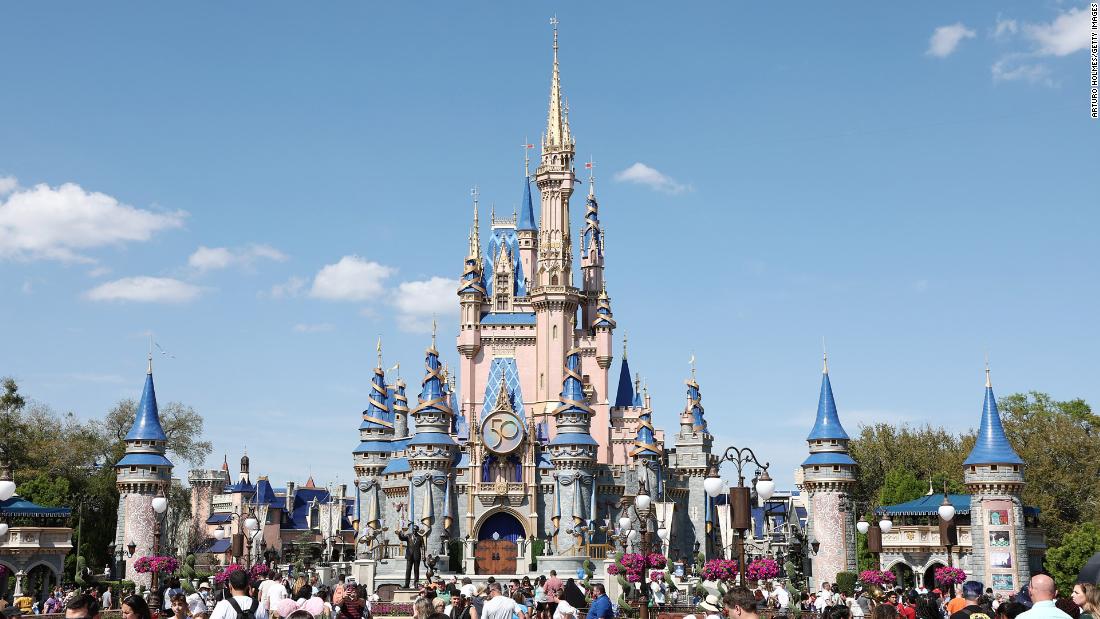 The right-wing media machine has a new villain: Disney.
Right now, Fox News, conservative talk radio and a constellation of right-wing websites and influencers are all wielding their firepower on the entertainment giant. Disney CEO Bob Chapek's belated stance against Florida's 'Don't Say Gay' bill gave way to right-wing media portraying the company as a 'woke' organization seeking to 'prepare' children with what they call a radical LGBTQ agenda.
Yes — really — Disney. The family-friendly, fun-for-everyone, intentionally harmless brand is being challenged like never before, largely by Florida Governor Ron DeSantis and other GOP politicians who play in front of the cameras to raise their own profile.
"They have a sex program for six-year-olds," Fox host Tucker Carlson said Wednesday night. "You would think it's illegal in some way. It's certainly immoral. It's scary as hell. And yet they're the leading provider of children's programs in the country. That's a problem. , no?"
Later on his show, Carlson spoke about Disney executives who have sought to normalize LGBTQ lifestyles by portraying them in movies and other projects. "It sounds like the behavior of a sex offender," Carlson said. "Normal people don't sexualize underage children."
Carlson's diatribe is just one example among many. An hour earlier, Fox host Jesse Watters made similar points, calling the company's theme parks "The Wokest Place on Earth." The truth is, characterizing Disney as a creepy company that aims to morally ruin children — an extreme position — has become quite commonplace in GOP media circles.
While
disney
(

SAY

)
employees and others first hammered Disney for not taking a strong stance on the "Don't Say Gay" bill, the reverse is now true on the right…
What impact will this have on business?
It might be tempting to dismiss these attacks on Disney as irrelevant to the company's bottom line, but I think that would ignore the very real power wielded by the talking heads and entities attacking the company. We have seen over the past six years how effective these same actors are in convincing a sizeable part of the country that information from reliable sources is "false". This assault has certainly had an impact on how conservative Americans view mainstream media.
That's not to say the same fate will meet Disney. It is possible that this assault will end in a few days or weeks. And Disney's entrenchment in American culture is strong, with its ownership of brands such as "Star Wars" and Marvel. Disney has always been seen as both family-friendly and, more specifically, gay-friendly. These two identities are not opposed. On the contrary, they shouldn't be, but DeSantis and others seem to create a conflict.
Consider this: just as the "1619 Project" was successfully demonized by Fox and others, what is to say that Disney will be unscathed? If the right-wing media apparatus is able to put a sour taste in the minds of the millions of people who turn to it for information, that could mean at least bad news for Disney…
The Daily Wire's $100 Million Bet
While the right is waging all-out war on Disney, at least one company is looking to take advantage. The Daily Wire, the right-wing media organization, announced in a press release that it "will invest at least $100 million over the next three years in a range of live and animated children's entertainment on its platform. streaming". The company said such content, which it says has been in the works for months, will be available to its subscribers in 2023. As Axios' Sara Fischer noted, the company has "entered into the entertainment" as a way to "attract paying subscribers. "
In making the decision to develop content for children, Daily Wire co-CEO Jeremy Boreing said, "Americans are tired of giving their money to woke companies that hate them. They are tired of giving their money to woke media companies that want to indoctrinate their children with a radical theory of race and gender. But they want to do more than just cancel them. They want alternatives. The Daily Wire gives them these alternatives.
The QAnon Factor
It's hard to ignore the QAnon factor at work. The political movement reshaped the GOP in significant ways, helping to entrench the notion within the party that elites are sexual deviants seeking to exploit children. This type of story, that Disney is a woke corporation used by Hollywood's liberal elite to indoctrinate children with radical gender theories, directly feeds into and reinforces this general theory. Fox and others in the right-wing media galaxy may not be directly promoting QAnon, but they are undoubtedly throwing the Bat-Signal at its fans.
>> Here's a good feature article from BuzzFeed's Otilla Steadman last year: "Conspiracy theories about sex trafficking and child abuse have been a staple feature of the online fever swamp that has blossomed under Trump, acting as a powerful recruiting tool and a call to action…"
Fox's LGBTQ activism
While Fox's chat channel slams Disney for pushing a pro-LGBTQ agenda, it apparently forgets — or chooses not to mention — that it belongs to an organization that also brags about its own " commitment" to "championing" these communities. On the Fox Corp website,
as reported
by John Whitehouse of the MMFA, the company, for example, boasts of having received a 100% rating by the Human Rights Campaign Foundation's 2021 Corporate Equality Index, giving Fox "the distinction of" the best Workplaces for LGBTQ Equality".
The company adds that it has been recognized as a "Best LGBTQ+ Friendly Company". He even goes so far as to say that he seeks to "create long-lasting business opportunities and relationships" with LGBTQ-owned businesses. "IT'S ALL ABOUT PRIDE," the company says in its "Corporate Social Responsibility" report. I asked a Fox Corp spox on Wednesday. how the company could reconcile the two messages, but I did not have an answer…
Further reading
— Chapek's missteps have fueled a "crisis of confidence at Disney," writes Kim Masters. She says insiders are speculating 'how long he might last at work…' (THR)
— In an interview that aired on CNN+ on Thursday, Bob Iger told Chris Wallace, "When you're dealing with good and bad, and when you're dealing with something that has a profound impact on your business, I just think you've done what's right and not worry about the potential backlash…" (deadline)
— Laura Ingraham continued the assault on Disney on her show: "Why not just rename the roller coaster 'Sex Mountain.' Come on kids, it's going to be awesome!" (
Twitter
)
— Philip Bump's point: Republican lawmakers…are on a mission to sell themselves to the kind of people who agree with what's shown on Fox News. And here we are…" (WaPo)