Culture officials hold virtual forum ahead of World Heritage Day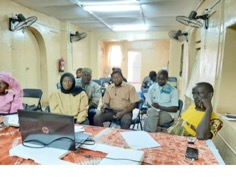 The project is co-funded by the European Union with partial equal funding from the United Nations Economic Commission for Africa.
The event organized on the theme: "Engaging communities in cultural heritage" was organized before the World Heritage Day.
The forum seeks to meet the needs of heritage organizations and grassroots groups across the country.
"We conducted it to establish the specific training needs of the sector. Therefore, we are delighted to offer this workshop and to work with multiple and very diverse stakeholders, including local communities NCAC, Banjul, Janjanbureh, Lower Niumi and Basse, such as festival committees, tour guides and other managers of local heritage-related businesses, said Evangelos Kyriakidis, director of the heritage organization.
The workshops, held online, are part of the Heritage Management Organisation's 'HerMaP Gambia' programme, which aims to develop the business skills of heritage and culture managers working for civil society organisations. in Gambia.
"The aim is to enable them to create and better support heritage and cultural businesses in The Gambia because of the brain drain."
HerMaP, she added, is a unique project that offers stakeholders the opportunity to engage in various heritage sectors of The Gambia, a country extremely rich in traditions, oral history, poetry, songs and in dance, among others.
"It is extremely encouraging to see the commitment of Gambian stakeholders who will ultimately take ownership of this program. It is important that we thank all stakeholders of this program and the European Commission for making it possible. ", added Kyriakidis.
During the workshop, participants learned about the context of community engagement through heritage, the importance of values ​​in community initiative as well as the discussion of methodologies based on ethnography and oral history.
"We must redouble our efforts for the proper management of our cultural heritage. This will allow our younger generation to benefit as it will also promote tourism," said Saloum Sheriff Janko, a participant of Artists in Alliance for Arts and Culture, a non-profit organization.