Collaboration and community: working together for the future of Armenian festivals | Smithsonian Voices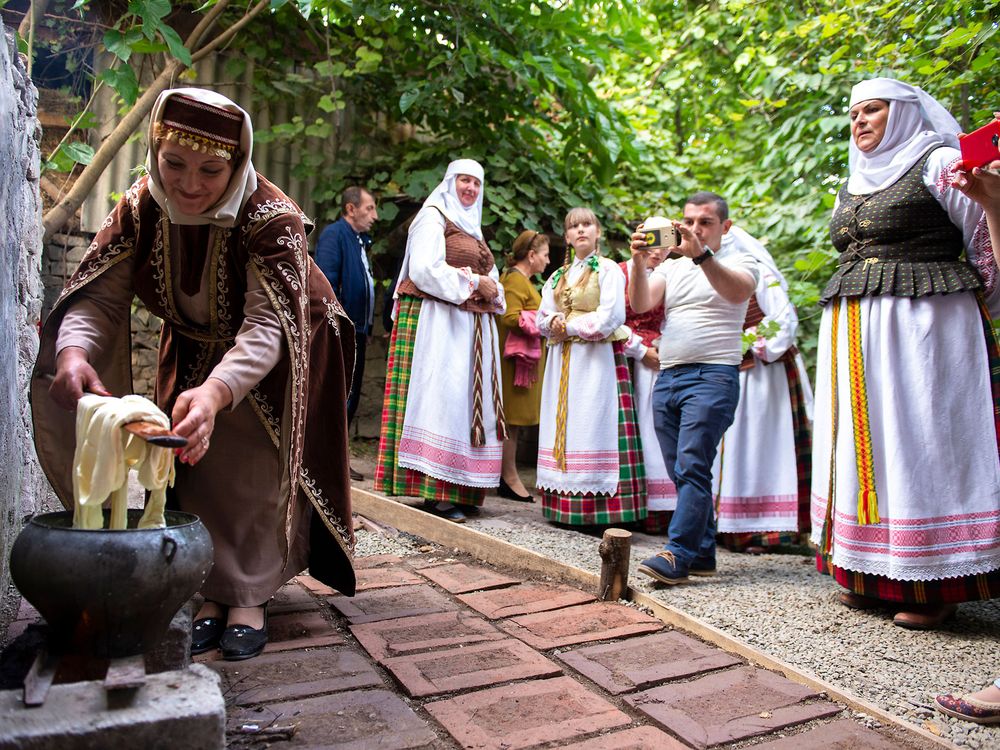 Customs and traditions often define the culture of Armenia, where people live, create and celebrate their arts, crafts, cuisine, environment, music and much more at local and regional festivals. For example, the Areni region celebrates its famous wine culture, the Lori region showcases its edible plants, and the Aragatsotn region presents its dances.
Recognizing that many regions of this small country produce spectacular and diverse festivals, a group of festival organizers, with the support of the My Armenia program, founded the FestivAr Association of Armenian Festivals in 2017. FestivAr brings together festival organizers and like-minded event enthusiasts. whose efforts make it possible to enhance and preserve the cultural heritage of Armenia. They are committed to making Armenia a more visible and attractive destination by positioning it again on the radar of global tourists.
"In the beginning, we were only ten festival organizers," recalls Nune Manukyan, executive director and founding member of FestivAr, "and today we have twenty-six members who come together for a common purpose. FestivAr strives to coordinate, promote and support the sustainable development of festivals in Armenia.
As a result, the number of Armenian festivals in the capital and regions has increased significantly. "Each year, FestivAr members organize thirty festivals, twenty of which are based in communities across the country," Manukyan explains. Moreover, as these festivals become more attractive and appealing, the number of visitors also increases, in part because FestivAr festivals offer something for almost everyone, both local and international visitors, from the start. from spring to late fall.
FestivAr festivals are also important elements in promoting Armenia's distinctive cultural heritage. Ruzanna Tsaturyan, researcher at the Institute of Archeology and Ethnography of Armenia, notes that "festivals are a dialogue. They allow us to stop in our fast and hectic routines to celebrate human creativity and the diversity of cultures. As they honor traditions, these festivals can also change communities, reveal new cultural identities, highlight places of special significance, and allow us to think deeply about our cultural heritage.
Tsaturyan observes how festivals condense in one place a variety of cultural manifestations and interconnected cultural phenomena, such as crafts, music, dance, cuisine, etc. "I consider it essential that festivals contribute to the mobilization of cultural heritage and promote social cohesion in the process," she argues.
For example, food lovers can taste a variety of tolma at Tolma festival in various places, taste traditional herbal food at Armenia edible plant festival in Dsegh, try the biggest gata at the Gata festival in Khachik, and drink coffee and tea from some of the best Armenian producers at the tea and coffee festival in Yerevan. Wine lovers won't want to miss the Areni Wine Festival, the site of the world's oldest winery, or the Yerevan Wine Days, a festival held on Saryan Street.
Those interested in arts and crafts can discover arts and crafts specific to the region, such as blacksmithing, carpet weaving, embroidery, pottery, stone carving, textile art, craftsmanship. wood and more at festivals such as My Handmade Armenia, DiliTon, Arts and Crafts Festival in Dilijan and the 1000 Years of Village Life Festival.
Nature and adventure seekers can find an exhilarating combination of sports, educational activities and entertainment at the Ecotourism, Cree, Rafting or Haybuis festivals. And the powers of music and dance are abundant at Sevan International Music Festival, Gutan Festival, and Yerevan Music Night.
The growth and increase of FestivAr member festivals contributes significantly to the tourism and economic development possibilities of the host communities. "By organizing festivals in the regions, festival organizers are decentralizing from urban areas," Manukyan explains. "This increases awareness of the regions and creates new opportunities for the communities. We understood that together we could achieve this goal faster and more efficiently. "
However, many challenges await us for the future of FestivAr and its members. For example, the COVID-19 pandemic and lockdown in 2020 has forced many festivals to switch to online formats or even cancel their events. Manukyan highlights longer-term impacts: "The online festival environment has become more important, festival planning has become more careful, and the safety of festival visitors has become the most important consideration for festival organizers" .
A second major challenge is funding. Manukyan notes that "festivals do not always receive funds or donations from the state, individuals or companies. In order to sustain their development, festival organizers must integrate a business component to make them financially viable and ensure the sustainability of festivals.
Creating an environment of knowledge and sharing of experiences is a third major challenge for FestivAr. Its member festivals continually seek to innovate and improve their programs by applying knowledge gained through collaborative learning and networking with other festival organizers.
Manukyan's hope for the future is that all Armenian festivals are under the umbrella of FestivAr. By coming together, festivals will become more sustainable, have more power to grow, and continue to innovate and share knowledge with each other.