Changed IT rules aim to make the web safer for everyone: Rajeev Chandrasekhar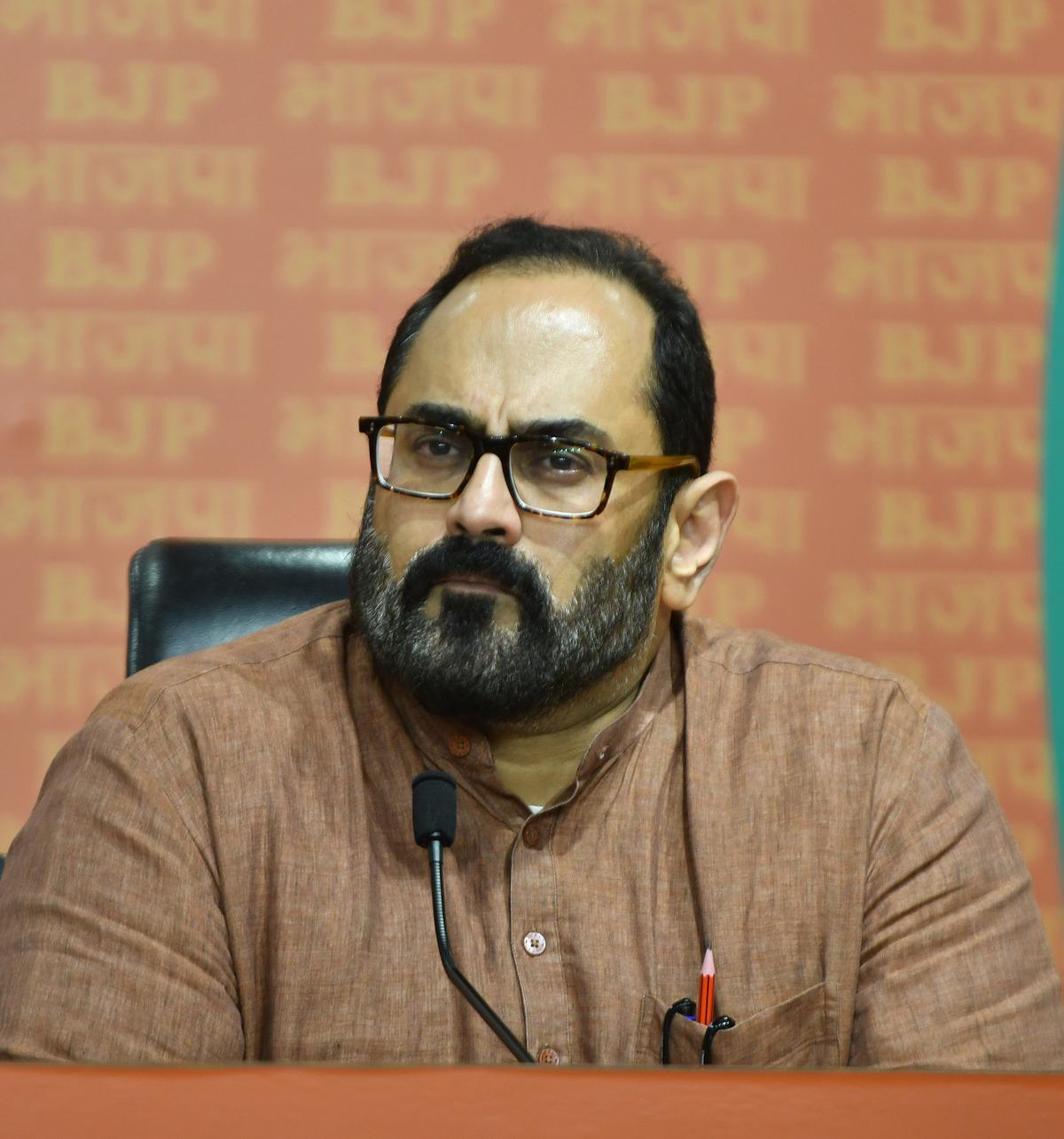 "Currently, users simply receive a 'thank you for submitting your complaint, we will get back to you' message from these platforms; GAC is supposed to deal with unresolved grievances, this is not an area the government wants to get into. We do this reluctantly because we have an obligation to the digital Nagriks"

"Currently, users simply receive a 'thank you for submitting your complaint, we will get back to you' message from these platforms; GAC is supposed to deal with unresolved grievances, this is not an area the government wants to get into. We do this reluctantly because we have an obligation to the digital Nagriks"

Minister of State for Electronics, Rajeev Chandrasekhar, stressed on Friday that with the new amendments to information technology rules, the government's goal is to make the internet a safe, reliable and responsible space. for users, and to ensure that platforms such as Twitter and Facebook uphold the rights granted to Indian citizens under Sections 14, 19 and 21 of the Constitution.
The Minister also dismissed criticism that the creation of Centre-appointed Grievance Appeals Committees (GACs) would give the government the power to moderate content on social media, saying content moderation is not the a whole problem that will come to the GAC. The government, he said, was forced to introduce GACs because of digital platforms' "casual" and "tokenism" approach to user complaints over the past year. The government has received hundreds of thousands of messages from citizens regarding action/inaction from intermediaries regarding objectionable content grievances or suspension of user accounts, he added.
"The GAC is really a deterrent for intermediaries not to continue their relaxed status quo mode of approaching grievance redress," he said.
He pointed out that there were basically three main additions in the amended rules, which now impose a legal obligation on intermediaries to make reasonable efforts to prevent users from downloading illegal content, oblige intermediaries to respect the rights guaranteed to users by the Constitution, including reasonable time, due diligence, confidentiality and transparency expectations, and the creation of GAC.
"…some intermediaries erroneously believed that their guidelines and rules took precedence over the constitutional rights of 14, 19 and 21. The rules make it very clear that regardless of where your jurisdiction is, if you provide a service to an Indian citizen, then Articles 14, 19 and 21 cannot be diluted or ignored," he said.
Excerpts from the interview:
"IT rules force social media companies on content"

A big criticism is that the Grievance Appeals Board (GAC) will give the government greater powers over content moderation…

There are two issues we look at: security and trust, and accountability. Previously, as part of due diligence, intermediaries only had to broadcast to users not to download certain categories of harmful/illegal content. There was no application. We changed that to not only say that intermediaries must inform and publish, but also ensure that these things do not happen and that we have included misinformation (in the content categories).
There is therefore now a specific obligation on the part of the intermediary on the moderation of content. They have to. In case they miss something, then when someone lets them know, it should be removed within 72 hours. There is no other content moderation. The GAC does not come into play at all.
The person reporting that there is misinformation is not the government, it could be anyone…so content moderation is not at all an issue that will come to the GAC. All non-content related issues come to the GAC…account blocked/hacked etc.
Currently, users simply receive a "thank you for submitting your complaint, we will get back to you" message from these platforms. The purpose of the GAC is to address unresolved grievances.
GAC is really a deterrent for intermediaries not to continue their casual status quo way of addressing grievances… I have enough work… the whole department is working hard… to take on the role of ombudsman for the internet. This is not our primary objective. But we are forced to do so due to the lack of progress over the past year.
This is not an area in which the government wants to interfere. We do this very, very reluctantly because we have an obligation and a duty to the digital Nagriks that someone listen to their grievances; if the platforms don't, then at least the government should.
So intermediaries need to check whether the content is factual?

The intermediaries will have to verify it and 72 hours is enough to verify it.
If there is not enough information available, they must remove it. We have done a detailed study and found that the speed and acceleration of the flow of disinformation is 8-10 times faster than any regular information and it reaches a wider audience.
Frankly, I think 72 hours is too long. It was proposed to be 24 hours but in consultation it was widely felt that was the start so let's keep it at 72 hours and then as platforms and middlemen will gain capacity and capacity, this will be reduced. I will ask all in between that if the letter of the rule says 72 hours, the mind should be as fast as possible.
You will also meet the intermediaries. What is the agenda?

I don't want things to be contradictory. It's not just about regulating intermediaries. This is a shared view on how we approach a safe and reliable internet. This (the guidelines) is our view. This point of view took into account all kinds of consultations, including the industry. Yes, it's not as good as no regulation, but the era of no regulation is over. It's quite fair. This is a very realistic expectation of intermediaries and our approach to intermediaries is that we are partners.
Government of India, intermediaries and digital Nagriks (citizens) are three stakeholders in building this trillion dollar digital economy and the underlying internet which is safe and reliable internet.
The rules now also mention the publication of intermediate rules in regional languages.

Listen, we need to have the internet available, especially this kind of thing available in all languages. All 120 million Indians are neither English nor Hindi. So we want that in all languages. But we're not saying it has to happen tomorrow. We are signaling by this rule that this is a multilingual Internet and that inclusion in the Internet is a very, very important goal.
You talked about seeing the new rules as a partnership with industry. But is this reciprocated from the industry?

I'm working on it. We conducted extensive public consultations with industry. We decided on a 72 hour time frame for removing content instead of 24 hours… They said we don't want a GAC, we want a self regulatory body (SRO). They said that in March and I told them that if you come with ORS, I will include the ORS in these amended rules. We waited at least two months. I could have made these rules two months ago. But the industry did not come up with ORS.
Even today, if the industry tomorrow comes up with a viable SRO that has consumer input, industry input, government input and is distinctly separate from the first tier of grievance redress, we are happy to examine.
The intention of this government is to work with the intermediary. The rules are not intended to make it difficult for anyone or to target any business. We don't want to get into that kind of tired narrative that we fix people. We don't fix anyone. We have a clearly defined vision of how to make the Internet safe and reliable and we encourage people to join us. And it's a win-win.
A safe and reliable internet means they can also grow and get more investment. This is what should be a collective mission for all Internet players, which is to make the Internet safe, reliable while keeping its attributes of openness, and to establish the principle of responsibility between intermediaries and consumers.
Will the government also look at sanctions?

Our approach to case law and laws is evolving. We would like it to be a partnership between the government and the intermediaries. If this requires a further change to the rules, we will not hesitate to do so. We did not mandate the GAC in May 2021.
In good faith, we thought that intermediaries, by appointing a grievance officer, would automatically understand that the officer is supposed to resolve grievances and there's no tokenism in that…we're sort of kind of forced to have a GAC.
We have thousands of messages from citizens and digital nagriks whose grievances have not received a response other than just saying we have received your grievance, thank you for submitting your grievance or no response at all. And that is not acceptable to us.
It is only as a last resort that we will resort to the incorporation of penalties.